What makes New Life unique?
Becoming committed, empowered, followers of Jesus
None of us have arrived at where we want to be. We are all striving for something more. At New Life, we will help you become all God wants you to be. We are all works in progress but we are also all masterpieces (Ephesians 3:20).

Let us help you discover what it means to become...
Committed
We desire to show Jesus we are committed to Him and not halfheartedly, casually interested in Him.
Empowered
We will guide you to see opportunities to reach the lost and the least, with the help from the Holy Spirit.
Followers
We will discover together how to be people who walk what they talk for Jesus.
Love like God does
In Mark 12:29-31, Jesus was asked, "What matters most?" and He responded saying, "Loving God, others and yourself." This truth is in the make-up or DNA of everyone who calls New Life home. It is who we are when we are together and when we are alone.

Jesus shared what this love looks like in 3 different parables in Luke 15: The Lost Sheep, The Lost Coin, and the Lost Son. These 3 parables reveal to us to love like God does is to love with great value. So each one of us is called to love God, others and yourself with great value.
On earth as is in heaven - Matthew 6:10
Ways we aim for this target...
Authentic Community
Through large gatherings and small groups community is formed and we are better together. - Acts 2:42, 4:32-35
Cheerful Giving
Through tithe, offering and giving to
Kingdom Builders
people become cheerful and generous givers. - 2 Corinthians 9:6-8
Time Alone with God
Setting aside time each day to spend alone with God is critical for on going personal, spiritual growth. - Mark 1:35
Stepping up to Serve
We are all called to serve and the best places to serve are our homes, church, and community. - Acts 2:45, 6:1-3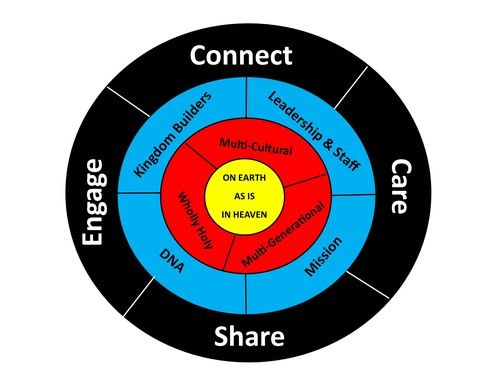 This is what makes New Life unique. We look forward to seeing you at New Life and seeing you make it the church you call home.
Be a part of our story...
Join us every Sunday as we gather to worship together a 10:00 am.